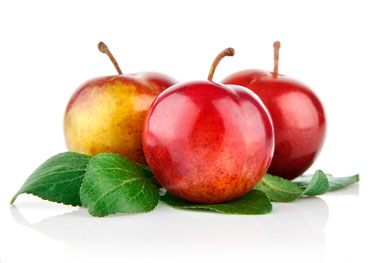 Plums
Plums are a round smooth-skinned sweet fruit with a flattish pointed stone. They vary in size, color and taste. Plums are rich in nutrients and generally have a sweet tart taste. The flesh is firm, juicy and mealy.
Mature plum fruit may have a dusty-white waxy coating that gives them a glaucous appearance. This is an epicuticular wax coating and is known as "wax bloom". Dried plum fruits are called dried plums or prunes, although prunes are a distinct type of plum, and may have predated the fruits now commonly known as plums.
China is the leading producer of plums worldwide.
Plum cultivars in use today include: Damson (purple or black skin, green flesh, clingstone, astringent), Greengage (firm, green flesh and skin even when ripe), Mirabelle (dark yellow, predominantly grown in northeast France), Satsuma plum (firm red flesh with a red skin), Victoria (yellow flesh with a red or mottled skin), Yellowgage or golden plum (similar to greengage, but yellow).
AVAILABILITY
J
F
M
A
M
J
J
A
S
O
N
D
Damson
JAN-DEC
Greengage
JAN-NOV
Mirabelle
JAN-DEC
Satsuma plum
JAN-DEC
Victoria
JAN-DEC
Yellowgage or golden plum
JAN-DEC