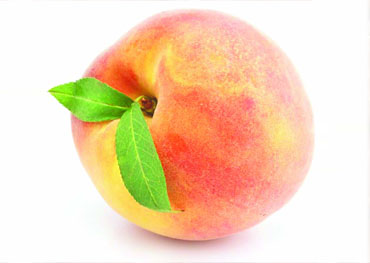 Peaches
The peach is a deciduous tree native to the region of Northwest China between the Tarim Basin and the north slopes of the Kunlun Shan mountains, where it was first domesticated and cultivated. It bears an edible juicy fruit called a peach or a nectarine.
Peach and nectarines are the same species, even though they are regarded commercially as different fruits. In contrast to peaches, whose fruits present the characteristic fuzz on the skin, nectarines are characterized by the absence of fruit-skin trichomes (fuzz-less fruit).
These are classified into two categories—the freestones and the clingstones. Freestones are those whose flesh separates readily from the pit. Clingstones are those whose flesh clings tightly to the pit. Some cultivars are partially freestone and clingstone, so are called semifree. Freestone types are preferred for eating fresh, while clingstone types are for canning. The fruit flesh may be creamy white to deep yellow; the hue and shade of the color depends on the cultivar.
China is the world's largest producer of peaches.
AVAILABILITY
J
F
M
A
M
J
J
A
S
O
N
D
Nectarines
JAN-DEC
Peacherines
JAN-OCT
Flat Peaches
JAN-DEC